The Daily Cheese.
In an interview with Israeli Channel 10 today Defense MinisterEhud Barak confirmed that he has ordered the military to prepare for a full-scale invasion of neighboring Syria, with the goal of seizing weapons from the Syrian military, currently embroiled in a civil war.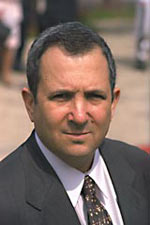 Barak sought to justify the move, saying that it was possibleSyria might transfer "anti-aircraft missiles" or even chemical weapons to Hezbollah, a militant faction operating out of neighboring Lebanon.
MORE HERE:
Barak Orders Israeli Military to Prepare for Syria Invasion — News from Antiwar.com.
Syria says will use chemical weapons if attacked
An American military analyst says by using its international assets to launch "false-flag" terror attacks against certain targets and by framing Iran,
Israel
is bent on making the US attack the Islamic Republic and fomenting
World War III
, 
Press TV
 reports.
"We are watching a…
View original post 71 more words